From Concrete to lighting we've got you covered!
Sport Court of Austin is familiar with all types of backyard challenges (like access, rock, slopes, & soils) in the Central Texas area. The Original Sport Court® Game Court (average size is 30' x 60') provides for 1 hoop with 3-point line and basketball markings plus paddle tennis or pickleball lines. The multi-height adjustable net system is usually run between the basketball pole and the light pole and accommodates paddle and tennis games, badminton and volleyball play. Add a practice net Rebounder at one end and practice all your favorite sports against the "Silent Wall".
That is the "Sport Court® Backyard Experience" ™

Light systems to allow for playing after the sun goes down
Custom Line Painting– painting onsite allows flexibility of color/sport
The safest outdoor court in the world PowerGame™ features the lowest skin abrasion of any outdoor court surface and is made of the highest quality materials and UV stabilizers to protect your investment. The patented Double-Tier shock absorbing grid and Lateral Forgiveness™ reduce joint strain and fatigue to help your family play longer and provide more safety than ever.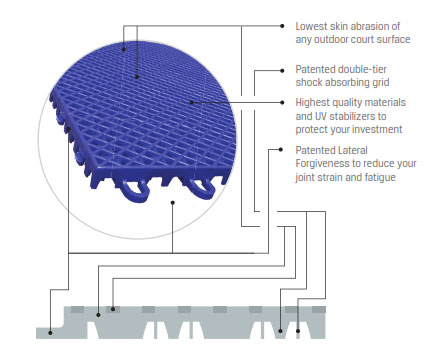 SportGame™ is the advanced athletic surface technology for multi-sport play. The Patent-Pending design produces excellent traction and low abrasion for safe play at an affordable price. The Lateral-Forgiveness™ helps to reduce joint stress and fatigue without sacrificing ball bounce and response.
10" interlocking tile
Lateral forgiveness for less wear on joints
Specialty grid allows water draingage
Over 16 color options available